How to Create a Facebook Business Page in 10 Steps
The idea that you don't need a Facebook Business Page is almost as antiquated as the one that says you don't need a website. After all, it's often the first and only point of contact a lead, customer, or client has with you. So not only do you want it filled out in full, you want to make sure it's representing you and your brand properly. We've created this guide as a no-nonsense way to set up your own Facebook Business Page, and get it right the first time.
Bonus: Download a free guide that teaches you how to turn Facebook traffic into sales in four simple steps using Hootsuite.
Step 1: Signing up
Go to facebook.com/business and click 'CREATE PAGE' in the top right hand corner. You'll be greeted with several business type options including local business, brand, or public figure. Select the type of business you're creating the page for. If your business type falls into more than one of the category options, choose the one it best aligns with.
You'll immediately be asked what kind of business category you are, along with some other small details that will vary depending on your business type. Select the one that applies to you, fill out any other fields, and click next.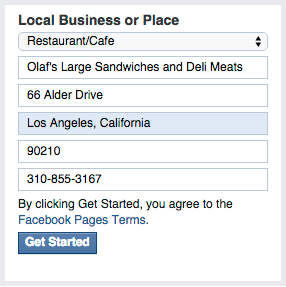 Note: If you don't already have a personal Facebook account, you'll be prompted to create a new login.
Step 2: Your "About" details
What kind of business are you? A museum? Add that. That sells ice cream? Include it. With a beer garden? Add that too. Keep in mind you can only add three categories, so make sure you're as accurate as possible. This ensures that the traffic you get is qualified—they're actually looking for your business or a business like yours.
The next field gives you the opportunity to tell people about your business. No need to get too elaborate here. Just write down what your customers need to know as clearly and concisely as possible. You can add a longer description later on.
Finally, add your url and confirm whether or not your business is real.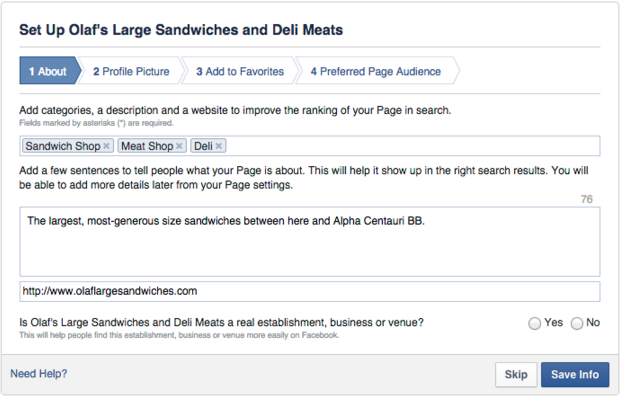 Step 3: Add a picture
It'll take less than a minute. Simply choose where you want to upload the image from: your computer or the web (and of course, make sure you have full rights to the image). Which picture to use, however, deserves a bit more consideration. If you're a big brand, using your logo is probably a safe way to go. If you're a celebrity or public figure, a picture of your own mug will work like a charm. And if you're a local business, maybe a well-shot image of your signature offering is what what will allow a potential follower or customer to make the connection immediately.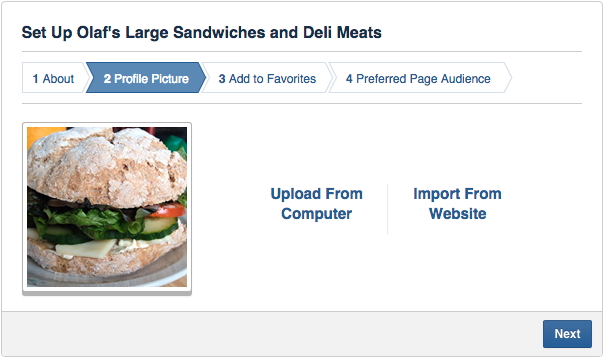 Step 4. Add to your Favorites
This step isn't necessary. But if you have a personal Facebook account that you use with any regularity, adding your Facebook for Business Page to your favorites lets you easily toggle between the accounts.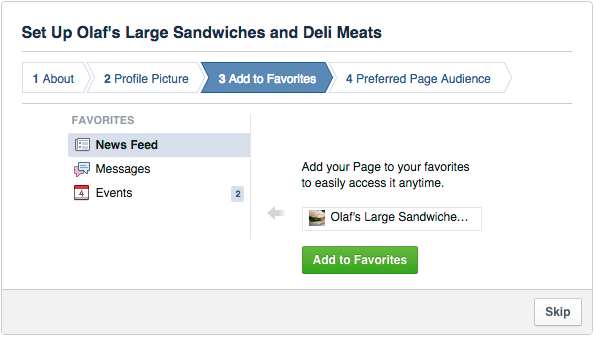 Step 5. Add your Audience
Where are you? Who are your customers? Now's the time to tell Facebook—they'll make it easier for that audience to find you. Here you can select your location, preferred gender(s), and their interests as they relate to your business so that they can filter the type of people that are visiting your Facebook page. You don't need to build elaborate personas to target here, but do put some real thought  into who your customer is.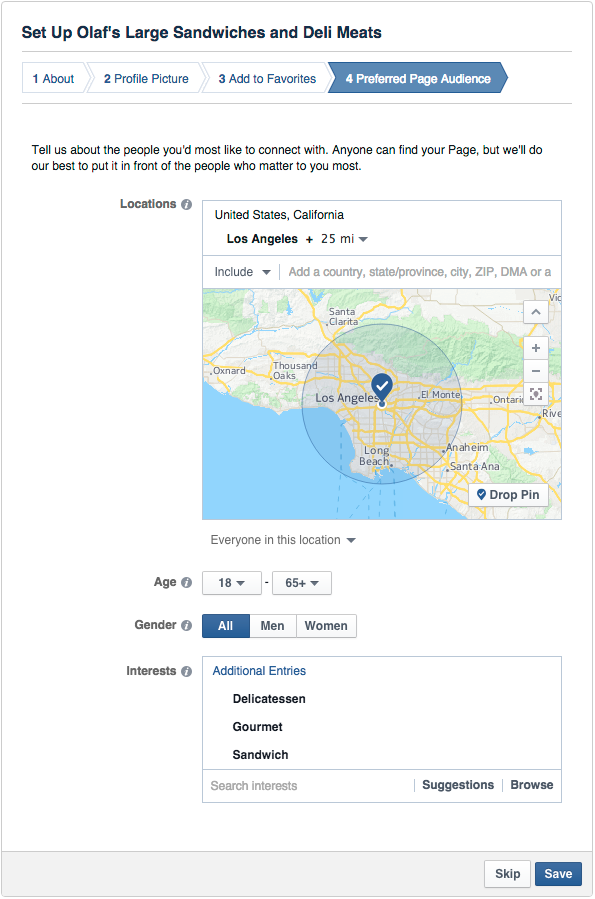 Step 6: Welcome to your Page
Ta-da! Your page is alive, albeit a bit sparse. You'll be prompted to take a quick walk-through of a few features. Unless you're already well aware of how the Facebook for Business Page operates, we recommend clicking through the prompts, just so you know where everything is. It only takes a few seconds.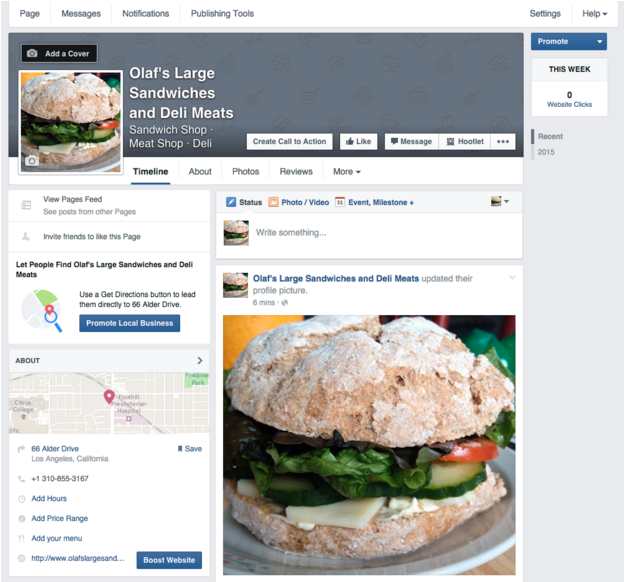 Depending on what kind of business type and category you've chosen, you may need to fill in some other details, (hours of operation/price range/tour dates). Do this right now. As Facebook is often the very first place a customer goes to get information about you, having it all there is extremely important. If they're looking for a business that's open till 9 and can't find it on your page, they'll surely find another place that is.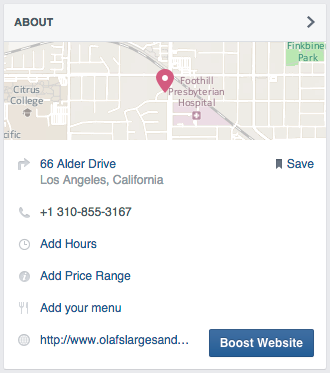 Step 7: Add photos
If you're a retail shop, people might want to know what the place looks like. If you're a restaurant, photos of menu items can prompt the reservation. And if you're a celebrity or public figure, people want to know what you're up to. Add photos that will positively reinforce your brand or help people get an idea of what to expect from your business or service, whether it's lifestyle shots or products. Be warned though: bad photos can do more harm than no photos at all (especially in food service), so it may be worth your while to get help from a professional photographer.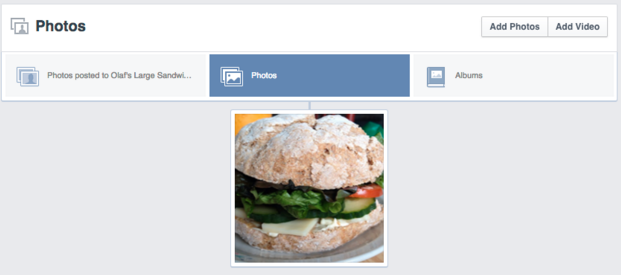 Step 8. Add a Call to Action
There are hundreds of reasons why people visit your page, and you may not be able to provide them with all the information they need there. But you can provide them with a way to get it by setting up a Call To Action button. Choose between signing up for a newsletter, sending them to your website, purchasing a product, and more. Facebook's built-in Call to Action button makes it virtually frictionless to give the consumer what they're looking for when your Facebook Page can't provide it.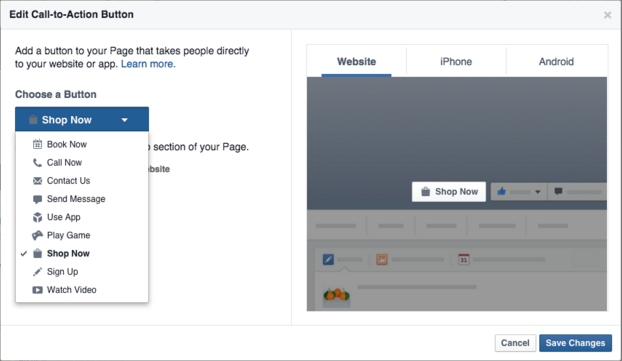 Step 9. Review your Settings
Your entire Facebook Business Page is controlled from everything behind your 'Settings' button, near the top right hand corner of the page. Here you can define who can administer the page, where the page is visible, what words are banned from the page, who has favorited the page, and so much more. Think of it as your behind-the-scenes console to every adjustable parameter available to you. Take a few minutes to go through each setting function and make sure that it's properly optimized for how you want to manage the page and how you want your audience to interact with it.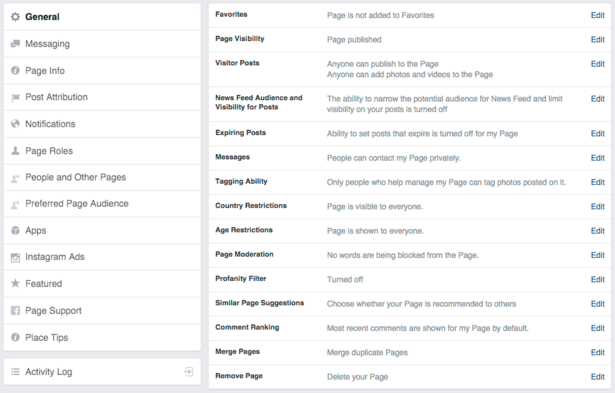 Step 10: Start engaging
Give your Facebook Business Page a bit of a nudge. Invite family and friends to like the Page. Use your other channels, like your website and Twitter, to promote it. Add "follow us" logos on your promotional materials and/or email signature. If you're comfortable with it, you can even ask your customers review you on Facebook, too.
Bonus: Get the step-by-step social media strategy guide with pro tips on how to grow your social media presence with Hootsuite.
Future Steps
Your Facebook for Business Page is an excellent tool for connecting and building rapport with customers and fans. Once you have a firm handle on how that works you can also use your Page to drive real sales and grow your brand. Spend a few dollars to promote your business to people on Facebook and advertise your website. Results vary, but it's relatively inexpensive for you to experiment with this function.
Depending on your type of business, Facebook can also be a very-easy-to-setup eCommerce platform where customers can actually purchase items directly from your page.
For now, though, it's all about the basics. They matter, so they're worth getting right. Follow the above steps and you'll be prepared to engage with your customers in the place they are most—and build your business at the same time.
Note: Setting up a Page must be done within Facebook natively. Once these steps are completed, you can then connect your Page to your Hootsuite account and manage it, along with your other social profiles, from the dashboard.
Now that you've setup your Facebook business page, start scheduling Facebook posts using Hootsuite.