Audio Switcher should be built into Windows – Easily Switch Playback and Recording Devices
I've been running a podcast now for over 600 episodes and I do most of my recordings here at home using a Peavey PV6 Mixing Console – it's fantastic. However, I also work remotely and use Skype a lot to talk to co-workers. Sometimes I use a USB Headset but I also have a Polycom Work Phone for conference calls. Plus my webcams have microphones, so all this adds up to a lot of audio devices.
Windows 10 improved the switching experience for Playback Devices, but there's no "two click" way to quickly change Recording Devices. A lot of Sound Settings are moving into the Windows 10 Settings App but it's still incomplete and sometimes you'll find yourself looking at the older Sound Dialog: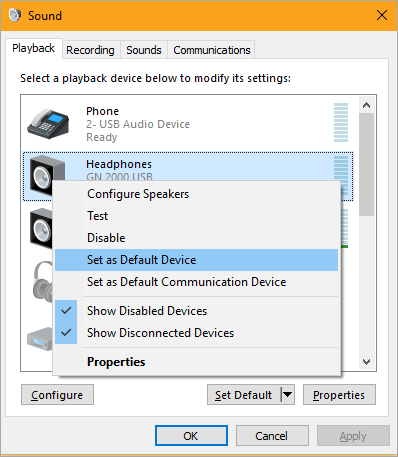 Enter David Kean's "Audio Switcher." It's nearly 3 years old with source code on GitHub, but it works AMAZINGLY. It's literally what the Power User has always wanted when managing audio on Windows 10.
It adds a Headphone Icon in the Tray, and clicking it on puts the Speakers at the Top and Mics at the Bottom. Right-clicking an item lets you set it as default. Even nicer if you set the icons for your devices like I did.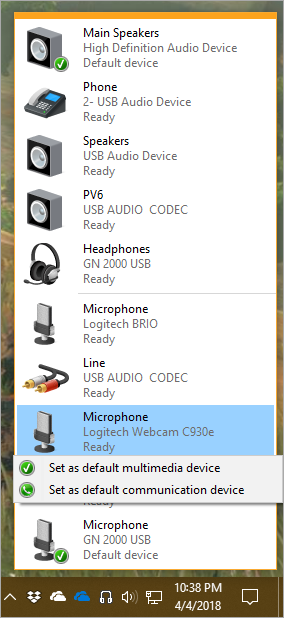 Ok, that's the good news. It's great, and there's Source Code available so you can build it easily with free Visual Studio Community.
Bad news? Today, there's no "release" or ZIP or EXE file for you to download. That said, I uploaded a totally unsupported and totally not my responsibility and you shouldn't trust me compiled version here.
Hopefully after this blog post is up a few days, David will see this blog post and make an installer with a cert and/or put this wonderful utility somewhere, as folks clearly are interested. I'll update this blog post as soon as more people start using Audio Switcher.
Thank you David for making this fantastic utility!
---
Sponsor: Get the latest JetBrains Rider for debugging third-party .NET code, Smart Step Into, more debugger improvements, C# Interactive, new project wizard, and formatting code in columns.