31 YouTube Stats That Matter to Marketers
The way we consume video is changing fast. Rather than gathering around the TV to watch our favourite shows, we're gathering in virtual communities to share both short- and long-form video tailored exactly to our in-the-moment wants and needs.
YouTube's first video was uploaded on April 23, 2005. It has been watched more than 45 million times. The content? A young man at the zoo observing that elephants have very long trunks.
Of course, YouTube content has become much more sophisticated since 2005, but the network still offers a platform in which everyone from kids to major brands can develop a loyal subscriber base.
For marketers, the YouTube opportunity is clear: tap into a massive audience that's actively searching for and sharing video content online. In this roundup of YouTube stats that matter to marketers, we'll examine the numbers you need to know to guide your YouTube business strategy.
Bonus: Get the step-by-step social media strategy guide with pro tips on how to grow your social media presence with Hootsuite.
YouTube user statistics
1. YouTube has more than 1.5 billion users
Among social networks, YouTube's number of users is second only to Facebook.
2. They live all over the world
YouTube offers localized versions of its site in 88 countries and offers support for 76 languages. Only 16.6 percent of YouTube visitors come from the United States, according to Alexa, with India (8.3%), Japan (4.6%), and Russia (4.1%) being the next-largest markets.
3. More of them are male
YouTube has more male users (55 percent) than female (45 percent). That differentiates the network from Facebook, Instagram, Pinterest, and Snapchat, all of which have more female users.
4. YouTube is the most popular social media site for teens
Ninety-six percent of online U.S. teens use the site, according to Forrester Research—yes, almost all of them. That's up from 87 percent in 2014. For comparison, 76 percent of the same demographic uses Facebook, the next most popular social media site.
5. Millennials "can't go without" it
In a recent comScore survey asking which three apps are most essential and would be the hardest to give up, 18- to 34-year olds named YouTube behind only Facebook and Facebook Messenger when it comes to social networking apps.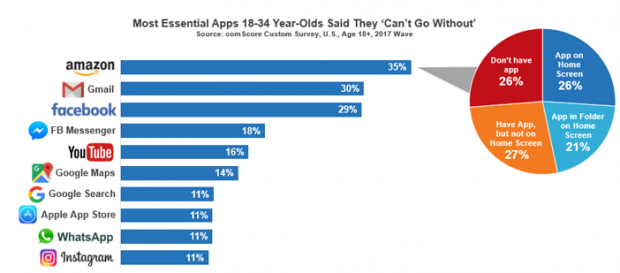 Even more specifically in the millennial demographic, 86 percent of millennial dads use YouTube for parenting guidance.
6. It's also one of the more popular social sites for seniors
Only 11 percent of YouTube's users are 65 or older, but that ties it for first place among social networks with Facebook and LinkedIn in terms of percentage of senior users. The other social networks have far fewer senior users: Twitter has 6 percent, Instagram 2 percent, and Snapchat less than 1 percent.
7. Generation X watches more than 1.5 billion YouTube videos per day
And 75 percent of those aged 35 to 54 watch YouTube at least once a month.
8. More than half of all U.S. adults use YouTube
Fifty-eight percent of American adults use the site, according to Pew Research Center. Compare that to the 26 percent who use Instagram and the 15 percent who use Twitter and it's clear YouTube is delivering a much-desired service. Among social media sites, only Facebook is used by more U.S. adults (66 percent).
9. Users have likely been to college
More than two-thirds (67%) of YouTube users have at least some college education.
YouTube usage statistics
10. People watch a ton of YouTube content
A billion hours per day, to be exact. That's more than 114,000 years of YouTube video watched every single day.
11. The best videos rack up millions of views
The 10 top-viewed videos in 2017 collectively amassed more than 630 million views, adding up to more than 40 million hours of viewing time.
12. And so do the best ads
The top 10 ads on YouTube generated 539 million views and 14 hours of viewing time, plus 3.6 million Likes.
13. Self-directed learning rules
Seventy percent of viewers use YouTube to help solve a problem with work, school, or hobbies, and 86 percent said they regularly use YouTube to learn new things. When asked about the reasons they visit YouTube, the most common response (65%) was "to help me fix something in my home or car." Entertainment was the second-most popular response, at 57 percent.
Among millennials, the numbers for self-directed learning are even higher: 93 percent of them use YouTube to find out how to do things.
14. People also use the site to get news
YouTube ranks behind only Facebook in terms of the social sites American adults use to get their news. Eighteen percent of U.S. adults get news on YouTube, compared to 45 percent on Facebook and 11 percent on Twitter.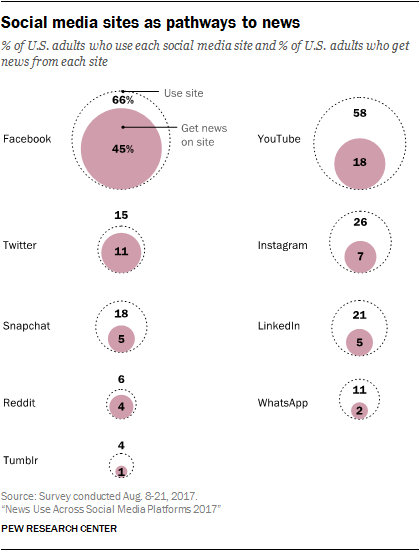 15. It's by far the multimedia app leader
YouTube accounts for 68 percent of time U.S. adults spend using multimedia apps, according to comScore. The closest competitor is Netflix at 21 percent.
16. And the preferred online video provider
A study by Google and comScore found that 48 percent of online video viewers name YouTube as their top video site, followed again by Netflix at 29 percent.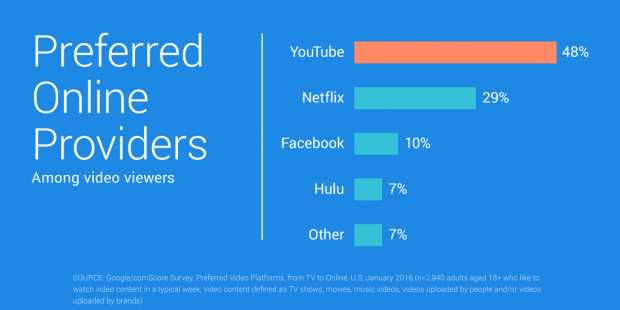 17. YouTube is the second-highest ranked website worldwide
Alexa ranks YouTube behind only Google in its "top 500 sites on the web" list, which is based on a combined measure of unique visitors and pageviews.
18. AI is pulling viewers in
More than 70 percent of the time users spend on YouTube is spent watching videos recommended by the site's artificial intelligence algorithms.
19. Mobile views are the majority
More than half of all YouTube views come from mobile devices, and the average mobile viewing session is more than an hour long.
20. TV usage is up
People are also watching YouTube on much larger screens. Users are watching more than 100 million hours of YouTube videos on their TVs every day, an increase of 70 percent since last year.
YouTube now reaches more 18- to 49-year-olds than any American cable network. During prime time, more people in that demographic watch YouTube than watch the top 10 prime-time shows combined.
YouTube for business statistics
21. Copyright is serious business
YouTube has paid out more than $2 billion to rightsholders who have made claims through Content ID, which helps identify videos using copyrighted material.
22. The highest-paid YouTube star earned $16.5 million last year
Daniel Middleton, known on YouTube as DanTDM, has more than 17 million subscribers to his channel of gaming videos.
The top 10 highest-paid YouTube stars combined earned $127 million, according to Forbes.
YouTube ad statistics
23. More than half of U.S. marketers run YouTube video ads
Fifty-one percent, to be exact. And 62 percent say they plan to increase their YouTube video ad spend in the next 12 months.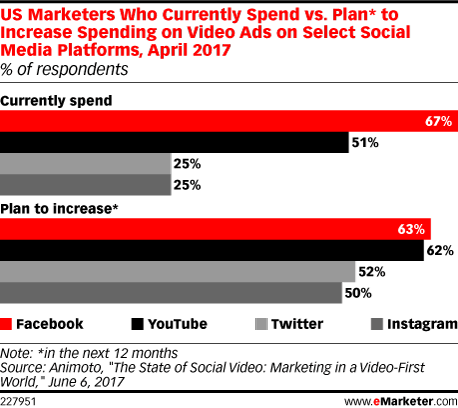 24. That represents a quarter of digital ad spend
YouTube accounts for 27.1 percent of digital ad spending share by U.S. senior marketers.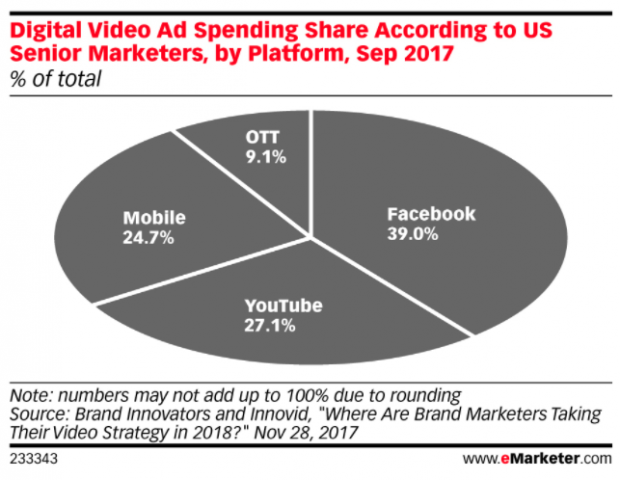 25. The six-second rule
A third of YouTube's large advertising customers use its six-second bumper ads. The number of customers using the ads increased 70 percent in the first two quarters of 2017.
YouTube's own figures show those short ads are working, with 70 percent driving "a significant lift in brand awareness," and 90 percent driving a lift in ad recall.
26. Both audibility and viewability of YouTube ads are over 90 percent
Ninety-five percent of YouTube ads are audible, meaning the audio level is at or higher than 10 percent at some point during the ad playback. Ninety-three percent of YouTube ads are viewable, meaning at least 50 percent of pixels are viewable on screen for at least two seconds.
27. People pay more attention to YouTube ads than to TV ads
In a study commissioned by Google, Ipsos Reid found using eye-tracking data that 62 percent of ad time on YouTube mobile receives the viewer's attention, compared to 45 percent of TV advertising time. For paid YouTube ads (that is, ads that are watched in full or for at least 30 seconds, rather than being skipped), 83 percent of ad time receives the viewer's attention.
YouTube performance statistics
28. Marketers are confident YouTube videos convert
Seventy percent of U.S. marketers are confident they can create YouTube videos that lead to purchases, and 81 percent are confident they can create engagement with YouTube videos.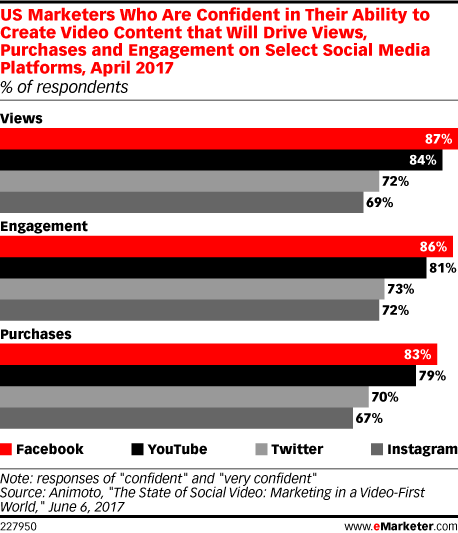 29. Value for both B2B and B2C
YouTube is in the top three most valued social media platforms for B2C marketers, and number four for B2B marketers, according to research from Clutch and Smart Insights. In this research, it was the only network where the value was perceived to be basically the same whether marketing to consumers or business.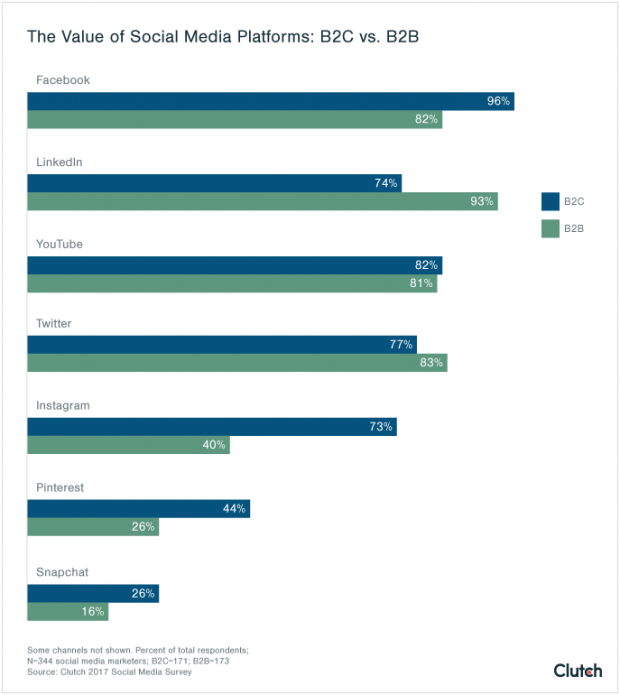 30. Combining ad formats improves results
YouTube's internal figures show that using bumper ads to remarket to TrueView ad viewers increased lift in ad recall by 42 to 104 percent.
31. YouTube ads increase engagement on the site itself
YouTube found that viewers who see TrueView ads are 10 times more likely to engage with the brand on YouTube—for example, by subscribing to the brand's channel, watching more of the brand's videos, or sharing their videos.
Grow your YouTube audience faster with Hootsuite. It's simple to manage and schedule YouTube videos as well as quickly publish your videos to Facebook, Instagram, and Twitter—all from one dashboard. Try it free today.